Lake City Covid-19 Statistics
Solaris HealthCare is committed to providing excellent care to our residents during this pandemic. We thank you for your trust and support during these unprecedented times. In an effort to provide timely, transparent information, we will be updating this information daily effective May 6th, 2020. The table will reflect the # of confirmed new COVID-19 infections as well as the # of instances of 3 or more residents or staff with new onset of respiratory symptoms within the last 72 hours.
The information contained in this report is provisional and subject to change. A positive test result does not necessarily mean the patient is experiencing symptoms. In addition, should any resident test positive, that individual's family will be contacted via telephone by either the Administrator or the Director of Nursing. For questions or concerns about this information please contact the Administrator.
| Date | Licensed Beds | Positive Residents | Positive Staff | # of Confirmed New COVID-19 Infections | Residents admitted or readmitted who were previously diagnosed with Covid 19 from another facility | # of Instances of 3 or More Residents or Staff With New Onset of Respiratory Symptoms Within Prior 72 Hours | Hospital Transfers | Cumulative Confirmed COVID 19 Cases (Residents & Staff) |
| --- | --- | --- | --- | --- | --- | --- | --- | --- |
| 09/20/21 | 120 | 0 | 0 | 0 | 0 | 0 | 0 | 0 |
SOLARIS HEALTHCARE
LAKE CITY

---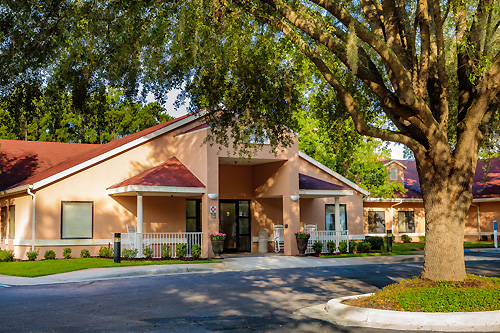 Solaris HealthCare Lake City is a trusted, compassionate provider of rehabilitation and extended care. We have maintained a consistent history of high performance standards. Our expert staff, state of the art facilities and upscale environment makes Solaris HealthCare Lake City the premier choice for rehab in North Central Florida.
Our STEP Rehab Program takes place in an inpatient setting that provides ongoing care for each patient to prepare them to return safely home. Designed in consultation with top rehab professionals, the STEP Rehab Unit is our signature service. Seven (7) days a week, our Therapists focus on clear goals to help patients regain strength, mobility and the best possible outcome. We know you want to return to the activities you most enjoy. Our spacious rehab gym is equipped with state of the art equipment. Specialty rehabilitation services include care for the areas of: Stroke, Orthopedic, Cardio-Pulmonary, Balance/Neuromuscular Reeducation, Dementia, and more.
Click here for open positions at this location
SOLARIS HEALTHCARE
LAKE CITY
560 SW McFarlane Ave
Lake City, FL 32025
Phone: (386) 758-4777
Fax: (386) 961-9296
Administrator:
Jacob Smith, N.H.A.
Admissions Director:
Ashton Crowder
Admissions Phone: 386-758-4777
Admissions Fax: 386-755-7946